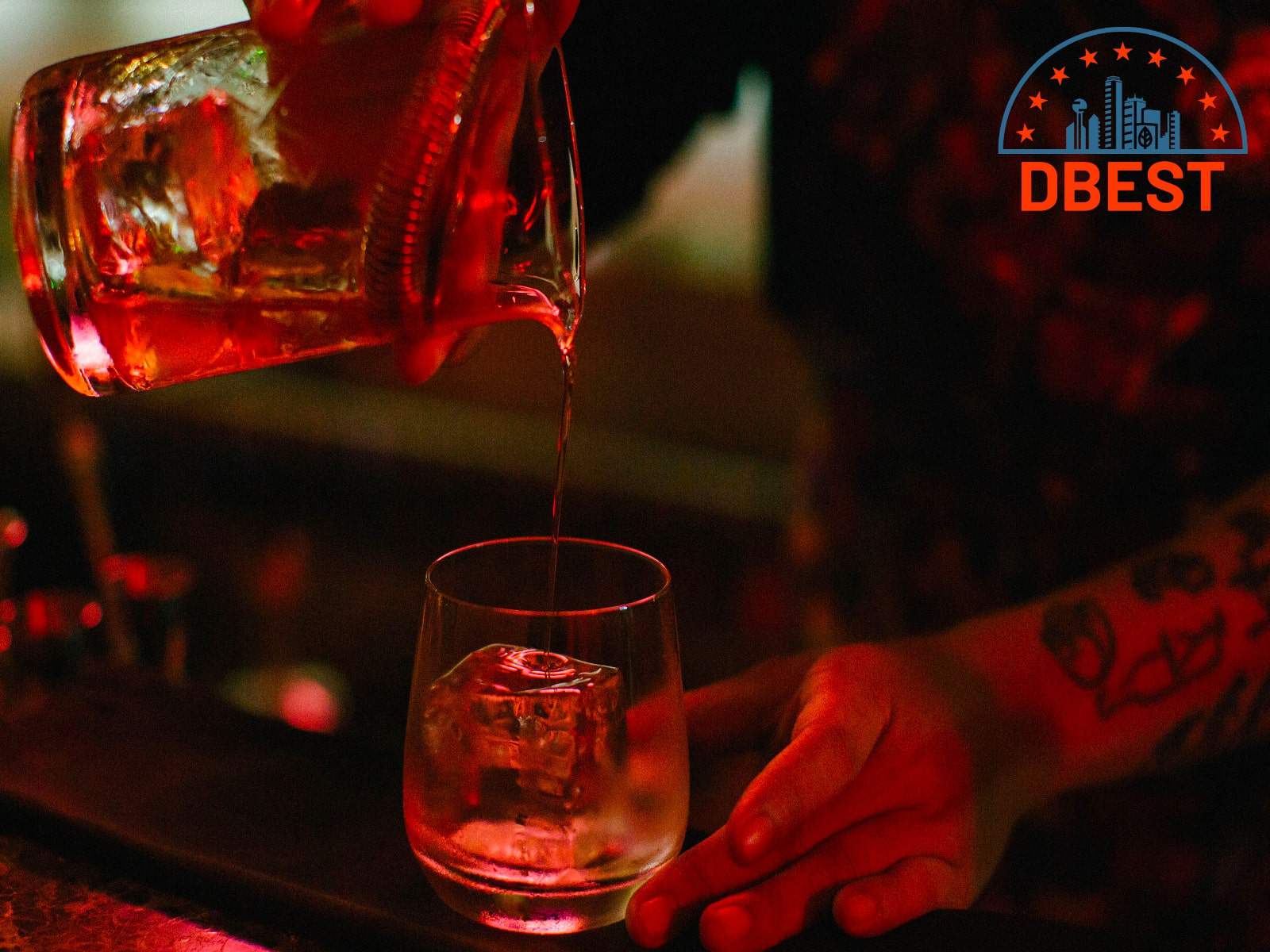 The 5 Best Bars in Dallas
How We Picked
1. Parliament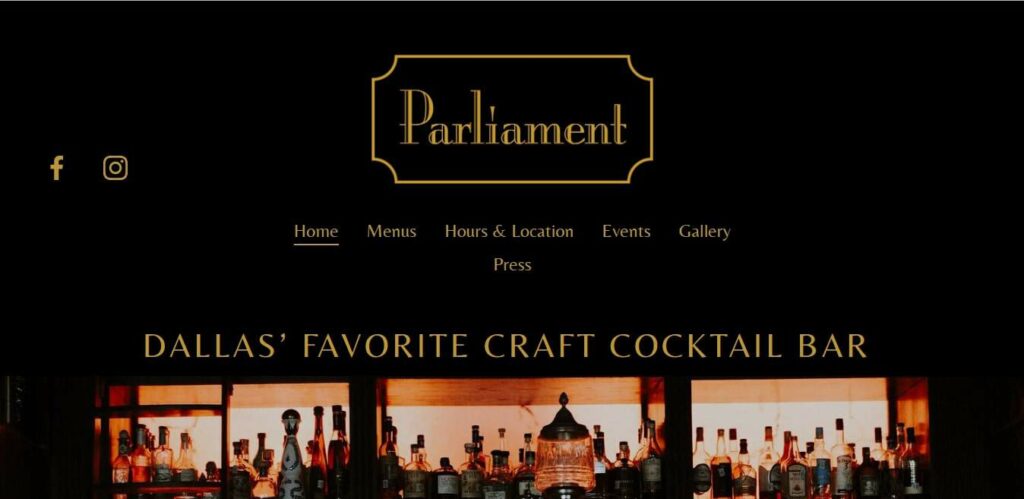 Services: Broadcasts games, happy hour, outdoor seating, bike parking
Address: 2418 Allen St Dallas, TX 75204
Website: https://www.parliamentdallas.com/
Contact Number: (469) 804-4321
Operating Hours: Monday – Sunday: 5PM – 2AM
| | |
| --- | --- |
| Yelp reviews score | 4.5/5 |
| Facebook reviews score | 4.8/5 |
| Google Reviews score | 4.6/5 |
| Total reviews | 5/5 |
| Score Consistency | 5/5 |
| | |
| --- | --- |
| Cost | 5/5 |
| Food and drinks | 3/5 |
| Service | 5/5 |
| Theme | 5/5 |
An array of cocktails to choose from
Open everyday
Great place for dates
Cheap drinks
Amazing service and atmosphere
Small space
No reservations
No food
The Parliament is a small gatsby-like bar located in the heart of uptown. It's a charming yet elegant bar open every day of the week.
One of the things we like about the Parliament is the overall vibe of the place. A dimly lit interior with classical music playing in the background produces a romantic atmosphere perfect for drinks.
Many guests have complimented the selection of cocktails. It's known to serve classic cocktails and signature drinks across all liquors.
And once happy hour rolls around, the prices of these drinks go below $10 each. Luckily, it's happy hour every Monday and every time it's raining!
It's also been noted that the dim lights, small space, and classical music make it a perfect first-date spot. It helps that it's located in the heart of uptown.
Another thing we liked is its responsive and consistent service. Its bartenders were friendly, and there were no hiccups when serving the drinks.
Despite the great atmosphere and drinks, it does suffer from some setbacks. One is the fact that it doesn't serve any food.
For some, this is a minute and ignorable detail. But for others, it's a big turnoff.
Overall, The Parliament is definitely worth the visit if you find yourself stuck in the middle of the rain or if you simply want a drink!
2. Apothecary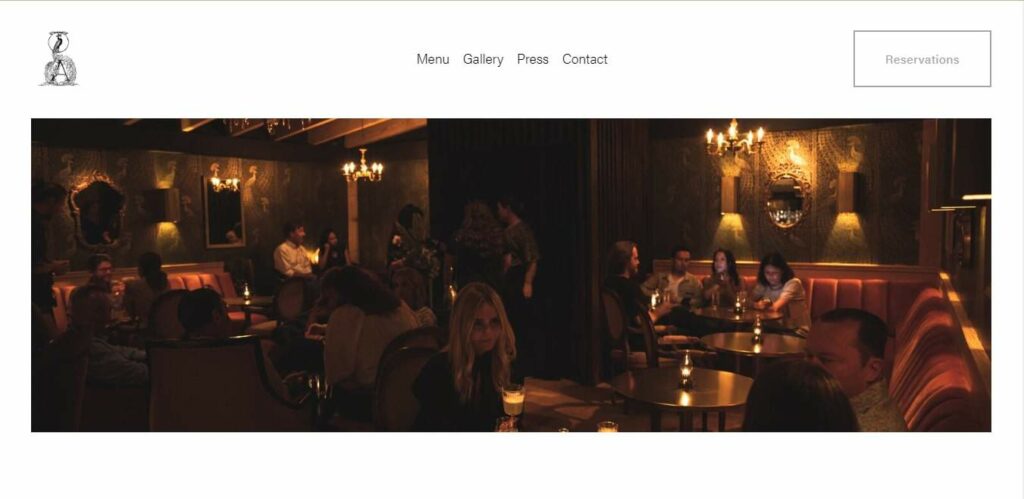 Services: Unique cocktails, fundraiser Mondays, unique dishes
Address: 1922 Greenville Ave, Dallas, Texas 75206
Website: https://www.apothecary.bar/
Contact Number: (972) 850-9192
Operating Hours: Tuesday – Sunday: 5PM – 12AM
| | |
| --- | --- |
| Yelp reviews score | 4.5/5 |
| Google Reviews score | 4.7/5 |
| Total reviews | 5/5 |
| Score Consistency | 5/5 |
| | |
| --- | --- |
| Cost | 4/5 |
| Food and drinks | 5/5 |
| Service | 5/5 |
| Theme | 5/5 |
Unique food and drinks
Not too rowdy and noisy
Great place for dates
Takes reservations
Friendly and considerate staff
Long waitlist
A bit expensive
If you have an adventurous itch and are tired of the usual drink choices, this one's for you. Apothecary aims to challenge your palette with its unique food and bar menu.
Its biggest attraction is its innovative way of serving drinks. It utilizes different techniques and tools, such as centrifuges and nitrogen liquid, to bring out a certain flair from its cocktails.
Additionally, the food is equally as exciting. It has edible oyster shells, edible candles, and a couple of more surprises for its diners.
One thing we like about the Apothecary is the classy atmosphere when dining. It isn't too loud, making it a great place for talking, yet the energy is still there that you feel part of the room.
Guests have mentioned it as a great place to go on dates. The dimly lit and small dining space makes it an intimate and romantic place for food and drinks.
Of course, the small room is also a drawback as it usually means the place is full. More often than not, you'd have to make a reservation days prior to get a seat.
But if you're lucky, the staff always keeps an eye out for open seats even on short notice!
3. HG Sply Co.
Services: Sunset view, televised games, Tex-Mex cuisine, happy hour, brunch
Website: https://www.hgsplyco.com/
Address: 2008 Greenville Ave, Dallas, TX 75206
Contact Number: +1 469-334-0895
Operating Hours: Monday – Friday: 11AM – 12AM, Saturday – Sunday: 10AM – 12AM
| | |
| --- | --- |
| Google reviews score | 4.5/5 |
| Zomato reviews score | 4/5 |
| Facebook reviews score | 4.6/5 |
| Total reviews | 5/5 |
| Score Consistency | 4/5 |
| | |
| --- | --- |
| Cost | 4/5 |
| Food and Drinks | 5/5 |
| Service | 4/5 |
| Theme | 5/5 |
Great happy hour
Unique food
No strict dress code
Sunset view
4 different menus
Multiple locations
Limited food options in the bar area
Small rooftop bar area
Can get a bit too loud at night
HG Sply Co. is a great rooftop bar that offers a sunset view, televised games, and tex-mex food. It's a great place to catch up with friends while enjoying the company of strangers over a football game.
It is well known for its food coming from well-sourced and minimally-processed ingredients. This applies to all four of its menus: brunch, lunch, dinner, and rooftop.
We like how unique and different its food is, taking inspiration from Asian, Mexican, and Texas cuisine. We highly recommend its Quinoa burgers and ahi tuna poke as these stood out as far as creativity goes.
As for drinking, HG Sply Co. doesn't enforce a strict dress code. This means you can get a couple of beers, catch the Cowboys game, and have fun with friends without worrying about what you're wearing.
Its beer is relatively cheap too, going for as low as $4. While its cocktails and wines are priced similarly to other places.
Another unique thing it offers is its rooftop. Here you can catch the sunset with loved ones and enjoy a more romantic and intimate experience.
Do note that the rooftop menu is limited to only appetizers.
One small thing we dislike about HG Sply is how loud the music gets at night. This makes it hard to enjoy a conversation even on the rooftop.
Besides that, it's a great place to hang out with friends and meet new people!
4. Goodfriend Beer Garden & Burger House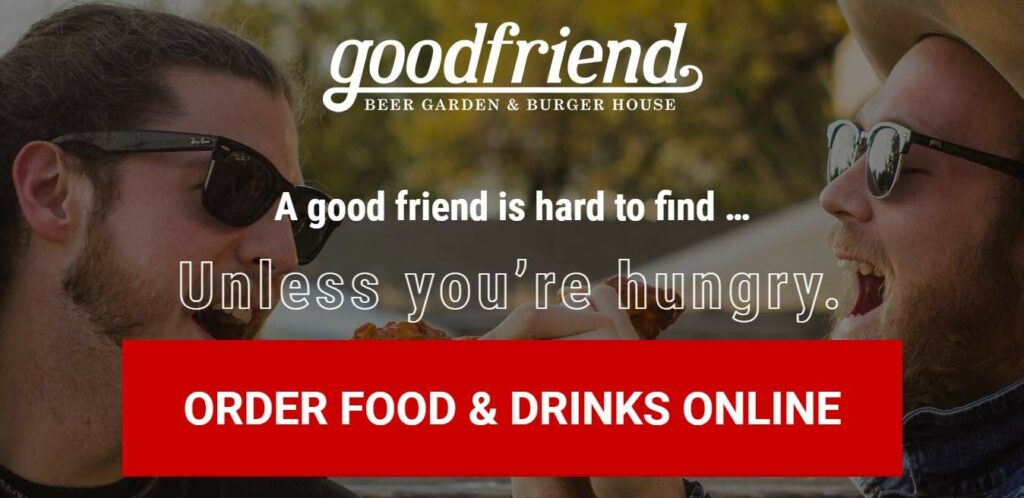 Services: Online delivery, burgers and sandwiches, kids menu, domestic and imported beers, happy hour special, televised games
Address:1154 Peavy Rd, Dallas, Texas 75218
Website: https://www.goodfrienddallas.com/
Contact Number: (214) 324-3335
Operating Hours: Wednesday – Thursday: 4PM – 10PM, Friday: 4PM – 12AM, Saturday 12PM – 12AM, Sunday: 12PM – 10PM
| | |
| --- | --- |
| Yelp reviews score | 5/5 |
| Facebook reviews score | 4.6/5 |
| Google Reviews score | 4.5/5 |
| Total reviews | 4/5 |
| Score Consistency | 4/5 |
| | |
| --- | --- |
| Cost | 5/5 |
| Food and Drinks | 5/5 |
| Service | 5/5 |
| Theme | 4/5 |
Pet-friendly
Free Wi-Fi
Happy hours special
Great food and beer
Good for kids
In a time when bars and restaurants try to be different in order to stand above the rest, Goodfriend stood out by sticking to the norm. This place simply offers a good burger with great beer.
The thing that made Goodfriend a powerhouse in Dallas is its burgers. It does a great job of mixing classic smash-style burgers with modern techniques and inspirations.
Its Bourdain Burger is one of the things we recommend. Its double smashed patties, American cheese, and kewpie mayo offer a sweet and smokey blend of flavor and aroma.
The sandwiches it serves are equally as good. Its BLT and spicy chicken sandwich are both worth the try, and are reasonably priced!
Of course, if you're here with the entire family, it also has a kids' menu complete with cheeseburgers and grilled cheese.
Another thing we liked about Goodfriend is its selection of beers. It has all the familiar domestic and draft beers and a handful of imported beers to choose from.
You can enjoy your burger and beer while catching a basketball or football game, as it regularly televises any big games during the afternoon.
If we're being honest, Goodfriend is close to perfect as a place to hang out and grab a drink. The only downside we've seen is the lack of reservation, so better get there early!
5. Sky Blossom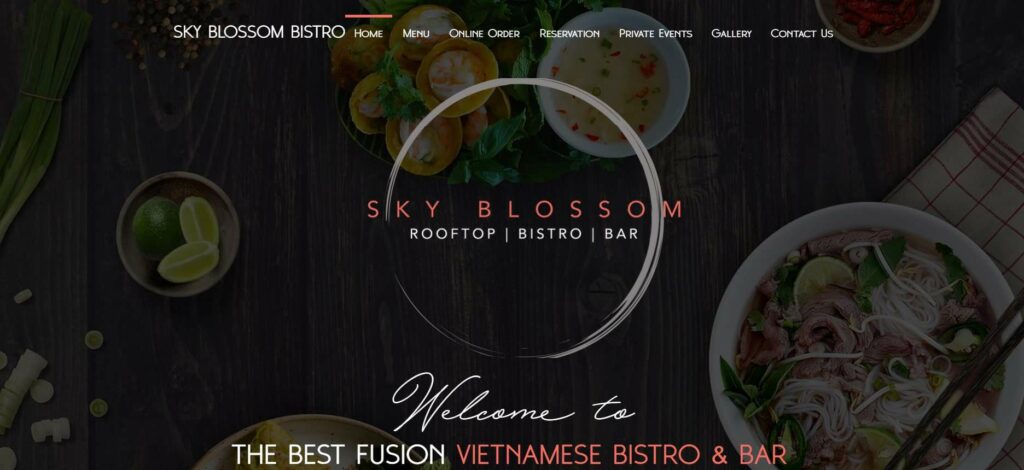 Services: Sunset view, Asian cuisine, happy hour, brunch
Website: https://www.skyblossombistro.com/
Address: 1514 Elm St #611, Dallas, TX 75201
Contact Number: +1 469-313-1524
Operating Hours: Monday – Sunday: 11AM – 11:30PM
| | |
| --- | --- |
| Google reviews score | 4.1/5 |
| Facebook reviews | 4.85 |
| Yelp reviews score | 4/5 |
| Total reviews | 5/5 |
| Score Consistency | 4/5 |
| | |
| --- | --- |
| Cost | 4/5 |
| Food and Drinks | 5/5 |
| Service | 4/5 |
| Theme | 5/5 |
Unique food
Perfect for dates
Great view
Great for Instagram pictures
Brunch service
Can get hot during the daytime
This Vietnamese-themed rooftop bar is one of the trendiest drinking spots in Dallas. Located on Elm Street, Sky Blossom offers authentic Vietnamese cuisine while overlooking the city view.
The first thing that stood out is how gorgeous the decor is. Its sakura-themed interior is Instagram-worthy and adds a delicate flair to the bar.
It's honestly closer to fine dining than it is to a bar. From the menu to the interior, everything is sophisticated and detailed.
Its food is quite different from the usual Tex-Mex offerings of bars and restaurants in the area. Instead, it serves authentic and hearty Vietnamese food like its Shaken Beef Bao and the Kalbi Short Ribs Pho.
The drinks are superb as well, with cocktails such as the Margarita Flights and the Lychee Martini being crowd favorites.
Overall, the vibe during the night is immaculate. Surrounded by the bright pink decor, you feel as though you've soaked in a little bit of Asian culture.
One major drawback is how dull and bland the decor looks in broad daylight. Its minimalist look works during the night, but unfortunately, it doesn't stand out during the day.
Another thing is how little shade there is in the area. This results in a hot and uncomfortable experience during the afternoon.
FAQs about Bars in Dallas