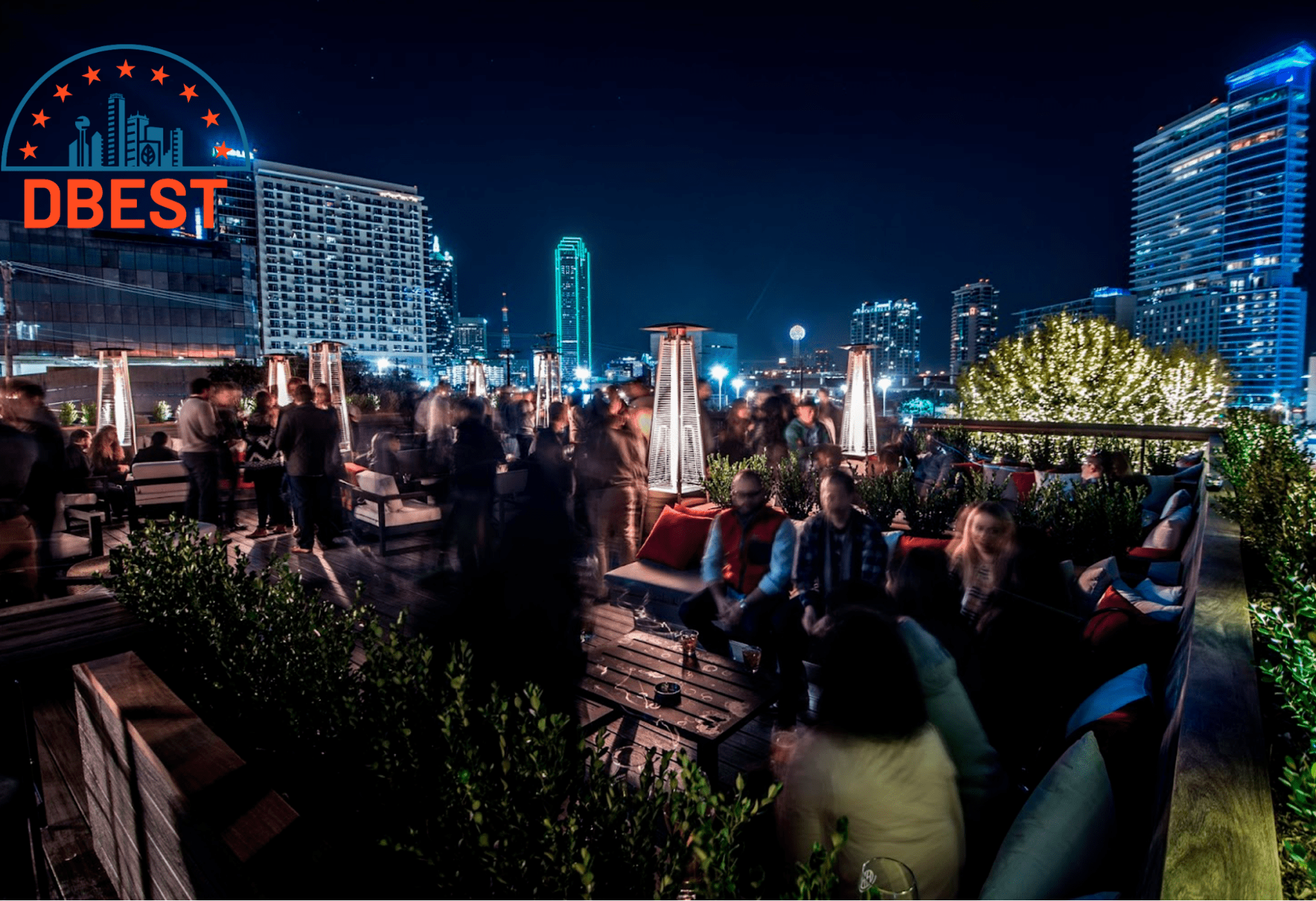 The 5 Best Rooftop Bars in Dallas
How We Picked
1. Waterproof Dallas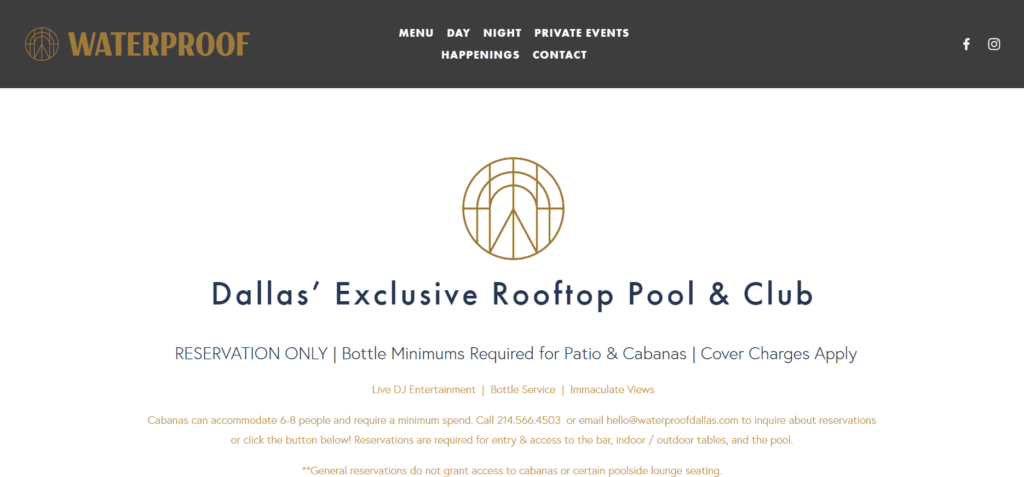 Services: Skyline view, sunset view, pool, happy hour, Italian cuisine, DJs, brunch
Website: https://www.waterproofdallas.com/
Address: 1914 Commerce St 19th floor, Dallas, TX 75201
Contact Number: +1 469-776-3702

Operating Hours: Monday – Thursday: 11AM – 12AM, Friday – Saturday: 11AM – 2AM, Sunday: 11AM – 12AM
| | |
| --- | --- |
| Google reviews score | 4.1/5 |
| The Rooftop Guide reviews score | 4.3/5 |
| Yelp reviews score | 3/5 |
| Total reviews | 5/5 |
| Score Consistency | 4/5 |
| | |
| --- | --- |
| Cost | 4/5 |
| Food and Drinks | 4/5 |
| Service | 5/5 |
| Theme | 4/5 |
Great view
Free pool use
Open for long hours
Daily happy hour 
Live DJ music 
Brunch
Limited space
Few menu items
Strict dress code
Expensive food and drinks
Requires reservation
Slow service during peak hours
Located on the 19th floor of the iconic The Statler Hotel, Waterproof promises good drinks in front of a dazzling city skyline from sunrise to sunset.
One of the things we really like about Waterproof is that it can be enjoyed just as much during the day as it is during the night. It's open from 11 am to 5 pm during the weekdays and up to 7 pm during the weekends.
During its day service, Waterproof feels like a Las Vegas pool party with DJs, cabanas, swimsuits, and lots of tropical cocktails. We feel that it's a great place to relax and cool off from the summer heat.
As the sun sets, trade in your swimming trunks for a cocktail party-appropriate attire as Waterproof transforms into its vibrant nightlife counterpart. Enjoy live DJ music and bottle service around the clock and dance the night away.
Food options are few but solid Italian dishes like ravioli, pizzas, sandwiches, and meatballs are available. Many customers we spoke to found the options to be limited but fresh and delicious.
Eating and drinking are especially popular during happy hour from 1 pm – 8 pm when select drinks are much cheaper. Otherwise, the food and drinks during the later hours seem a bit expensive.
Seats and tables in the patio and cabanas all require a reservation. Since the bar area is a bit small, we recommend making a reservation beforehand.
Of course, during the nighttime, guests are expected to come in the proper attire — meaning no shorts, sportswear, clothes with offensive messages, and see-through clothing. According to past customers, the management can be a bit strict about the dress code.
One downside, however, is the slower service on busy days. Also, since the rooftop bar isn't as big and the pool is closed at night, the area for people to go around in can be a bit small.
For us, Waterproof is one of the best rooftop bars in Dallas, especially during summertime. For better or worse, it's an intimate experience every nightlife scene should have.
2. Happiest Hour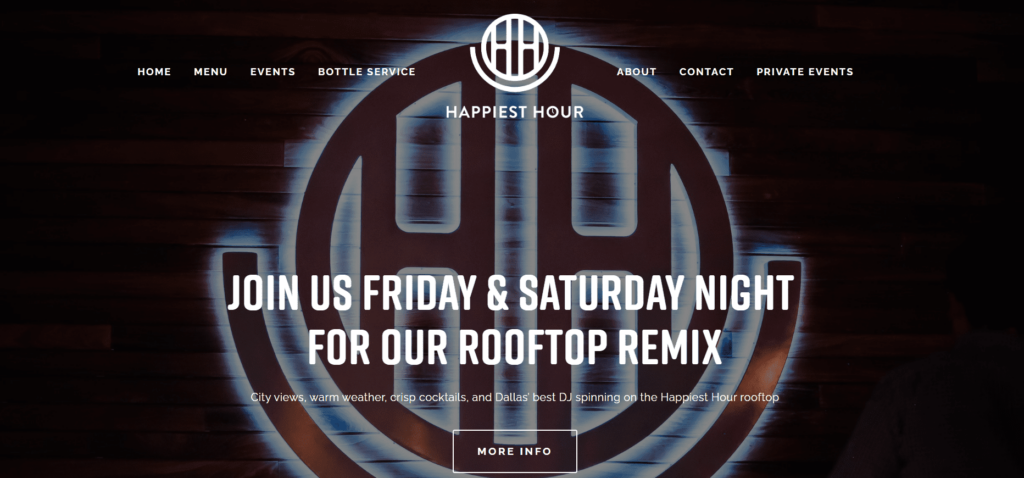 Services: Sunset view, televised games, Mexican Cuisine, happy hour, brunch
Website: https://www.happiesthourdallas.com/
Address: 2616 Olive St, Dallas, TX 75201
Contact Number: +1 972-528-0067
Operating Hours: Monday – Wednesday: 4PM – 12AM, Thursday – Friday: 4PM – 2AM, Saturday: 11AM – 2AM, Sunday: 11AM – 12AM

| | |
| --- | --- |
| Google reviews score | 4.3/5 |
| The Rooftop Guide reviews score | 5/5 |
| Yelp reviews score | 3.5/5 |
| Total reviews | 5/5 |
| Score Consistency | 4/5 |
| | |
| --- | --- |
| Cost | 5/5 |
| Food and Drinks | 4/5 |
| Service | 4/5 |
| Theme | 4/5 |
Wide space
Great food
Cheaper than most bars
Near the American Airlines Center
Full city view
Can get packed especially during the NBA season
Not a great place for a date
Less trendy and more sports bar-like
Hot during the summer
Situated in Harwood district in Downtown Dallas, Happiest Hour is one of the most popular rooftop bars in the city.
This massive 12,000-square feet rooftop establishment has 4 full-service bars spread across the area. Guests have a choice of staying both indoors and outdoors, though the full city view can be seen from either.
Not only is Happiest Hour a great place to drink but to eat as well. Despite being on the pricier side, it is known for its pulled pork benedict and smoked brisket tacos.
Many guests have cited that this place is great for watching games while eating. Of course, being a few steps from the American Airlines Center makes it a great place for Dallas Mavericks fans to celebrate a winning game.
Otherwise, the bar regularly schedules viewing events for other sports. This is one of the things we really enjoy about this place as there's always an event.
Despite having great food and atmosphere, it does suffer from some minor setbacks. Even though the area is large, it can still be a bit packed during peak times or special events.
Depending on the person, though, this can be both good and bad. Because of this, it can also get a little bit hot during summer.
Be warned that this is not the typical rooftop bar with a pool — it feels a bit more like a sports bar on a roof. This may not be the best place for a first date.
Owing to its name, Happiest Hour is where the party's at. Pints of beer are only $5 each while sliders and wine are only $7, considerably cheaper than most places.
Get a good deal on shots as well, as all shots only cost only $6 each. Take note, however, that Happiest Hour only takes walk-in guests.
3. HG Sply Co.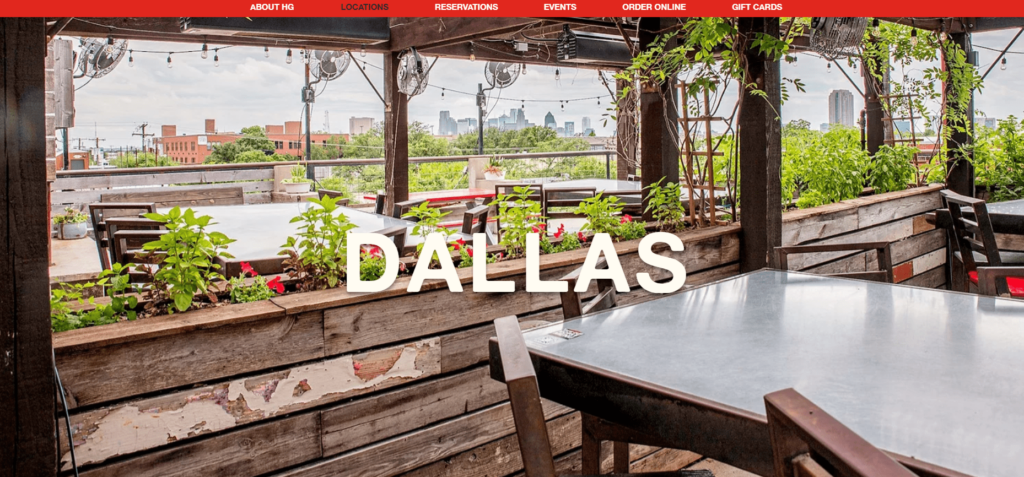 Services: Sunset view, televised games, Tex-Mex cuisine, happy hour, brunch
Website: https://www.hgsplyco.com/
Address: 2008 Greenville Ave, Dallas, TX 75206
Contact Number: +1 469-334-0895
Operating Hours: Monday – Friday: 11AM – 12AM, Saturday – Sunday: 10AM – 12AM
| | |
| --- | --- |
| Google reviews score | 4.5/5 |
| Zomato reviews score | 4/5 |
| Facebook reviews score | 4.6/5 |
| Total reviews | 5/5 |
| Score Consistency | 4/5 |
| | |
| --- | --- |
| Cost | 4/5 |
| Food and Drinks | 5/5 |
| Service | 4/5 |
| Theme | 5/5 |
Great happy hour
Unique food
No strict dress code
Sunset view
4 different menus
Multiple locations
Limited food options in the bar area
Small rooftop bar area
Can get a bit too loud at night
Restaurant food not allowed in the bar area
If you're looking for a place that's a bit more of a restaurant than bar, then this one's for you. HG Sply Co. is a restaurant/ rooftop bar with three locations Downtown Dallas, Fort Worth, and Trophy Club.
It is best known for its food coming from well-sourced and minimally-processed ingredients. One thing we really like about this bar is that it has 4 different menus for brunch, lunch, dinner, and a rooftop menu.
Many guests describe the food as innovative and unique. Quinoa burgers and ahi tuna poke are just some of its takes on Asian and modern influences mixed with classic American recipes that we recommend.
As a bar, HG Sply Co. doesn't really enforce a dress code. A lot of past customers we spoke to complimented the relaxed vibe of the place, saying that the best time to go is during Happy Hour from 3 pm to 6 pm.
Draft beer is considerably cheaper compared to other places, being only $4, while cocktails and wine are just about the same cost per glass as everywhere else.
The rooftop bar is a great place to spend the day to watch the sunset with friends or on a date. Be aware, however, that as the night progresses, DJs play music that can get a bit too loud to have a conversation.
At this point, the rooftop bar turns into a great party where you can dance the night away. When deciding to stay on the rooftop, bear in mind that the rooftop menu is limited and only serves appetizers.
According to some guests, it's not possible to bring food from downstairs into the bar area. While it can be disappointing, it can't be helped as the bar area wasn't designed for people to eat full-on meals.
Otherwise, HG Sply Co. is a great mix of relaxed vibes, great food, and even better nightlife. This place is great for hanging out with boys or even just getting brunch.
4. Gallery Rooftop Lounge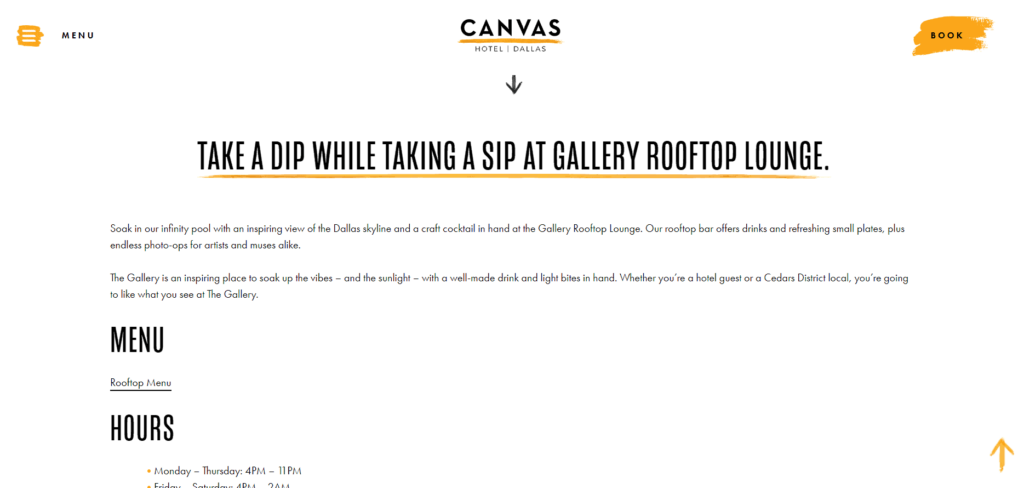 Services: Sunset view, pool, Tex-Mex cuisine, happy hour
Website: https://www.canvashoteldallas.com/eat-drink/gallery-rooftop-lounge/
Address: 1325 Botham Jean Blvd, Dallas, TX 75215
Contact Number: +1 214-778-6777
Operating Hours: Sunday – Thursday: 3 – 11AM, Friday – Saturday: 3PM – 2AM
| | |
| --- | --- |
| Google reviews score | 4.3/5 |
| The Rooftop Guide reviews score | 4.1/5 |
| Yelp reviews score | 3.5/5 |
| Total reviews | 5/5 |
| Score Consistency | 4/5 |
| | |
| --- | --- |
| Cost | 4/5 |
| Food and Drinks | 4/5 |
| Service | 5/5 |
| Theme | 3/5 |
No strict dress code
Heated infinity pool
Located in a hotel
First-come first-serve
Panoramic city view
Pool is reserved mainly for guests at the hotel
Food isn't noteworthy
Reservation required for big parties
If you're looking for a pool party a la Las Vegas, then this might be the best place for it in Dallas. Situated atop the Canvas Hotel, the Gallery Rooftop Lounge is best known for its heated infinity pool.
Unlike other rooftop bars, Gallery is located on the 6th-floor terrace of the Canvas Hotel. Being less high up, the wind isn't as obstructive and is accompanied by a panoramic view of the city.
Weekdays are much more chill with fewer people, with most guests lounging around the bar. The energy picks up, however, during nighttime, and accompanied by music, the lounge becomes much more vibrant.
The Gallery operates on a first-come-first-serve basis and only allows reservations for a party with more than 20 guests.
While the infinity pool is mainly reserved for guests of the hotel, bar management frequently hosts special pool party events for the general public.
The Gallery's pool actually closes late at 9 pm. You can make the most of this time for some Instagram-worthy pics.
Aside from the pool, guests can eat and drink at private cabanas. We feel that this makes the bar area feel less crowded and more intimate.
We recommend trying popular cocktails like the tequila-based Watermelon Cooler and the rum-infused Pineapple Ginger Refresher.
The usual Tex-Mex cuisine is served, like wings, nachos, and ceviche. While the food is great, it's also not that special.
Management is known to be very accommodating. The dress code is very lenient compared to other upscale bars, only barring baseball caps and sports-oriented shirts.
Otherwise, most guests can agree that the staff are very friendly and work just as efficiently.
The Gallery Rooftop Lounge is a great place for locals and tourists to mingle.
5. Sky Blossom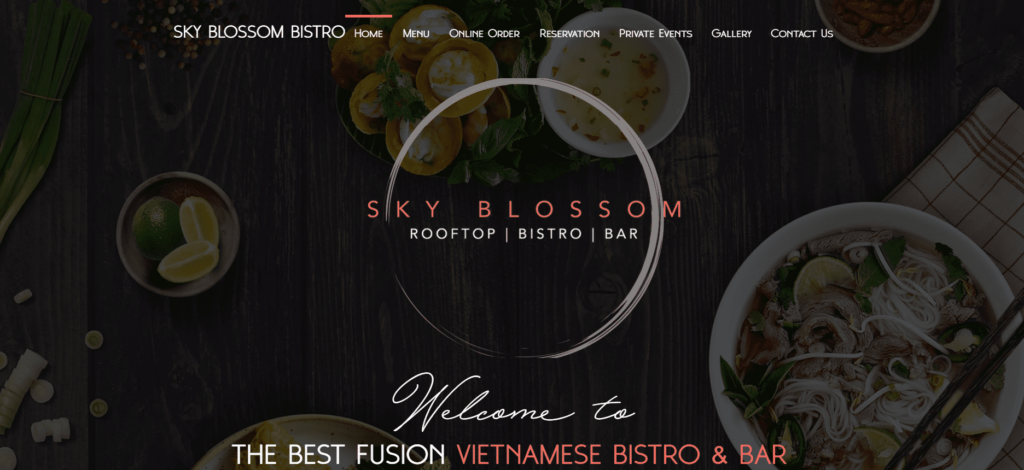 Services: Sunset view, Asian cuisine, happy hour, brunch
Website: https://www.skyblossombistro.com/
Address: 1514 Elm St #611, Dallas, TX 75201
Contact Number: +1 469-313-1524
Operating Hours: Monday – Sunday: 11AM – 11:30PM
| | |
| --- | --- |
| Google reviews score | 4.1/5 |
| opentable.com reviews score | 4.4/5 |
| Yelp reviews score | 4/5 |
| Total reviews | 5/5 |
| Score Consistency | 5/5 |
| | |
| --- | --- |
| Cost | 4/5 |
| Food and Drinks | 5/5 |
| Service | 4/5 |
| Theme | 5/5 |
Unique food
Perfect for dates
Great view
Great for Instagram pictures
Brunch service
Can get hot during the daytime
Simplistic decor
Little shade
This Asian-themed rooftop bar is one of the trendiest spots in Dallas. Located on Elm Street, it offers authentic Vietnamese cuisine.
By day Sky Blossom is a quick serve restaurant offering good eats from lunchtime at 11 am to 3 pm. From then on, the restaurant transforms into a fine dining experience.
Come nighttime, this place is a perfect spot to try out new flavors. Its sakura-themed decor is great for taking pictures to post on Instagram.
Food and drinks aren't the typical American or Tex-Mex most people are used to, but a fusion of authentic Vietnamese cuisine and other Asian influences. We recommend trying the Shaken Beef Bao and the Kalbi Short Ribs Pho.
According to many former guests, the drinks are just as good. Margarita Flights and the Lychee Martini are the go-to drinks for many.
Everything is wonderfully plated and Instagram-worthy.
Despite the great food, drinks, and ambiance, there are still drawbacks. The furniture decor can be pretty simple, which suits the nighttime minimalist aesthetic but is noticeably boring during the day.
There is very little shade in the area, something that's great during cool months, but can otherwise get a bit too hot, making it uncomfortable.
Regardless, according to some guests we've spoken to, the staff is mindful enough to give cold water to diners.
Many agree that the best times to dine here are during the afternoon and just before the sun sets, which is the time when there won't be a long line outside.
Sky Blossom is a great place if you're looking to impress your date. Just make sure you go there when it's not too hot out.
FAQs about Rooftop Bars in Dallas