Categories >
Other Services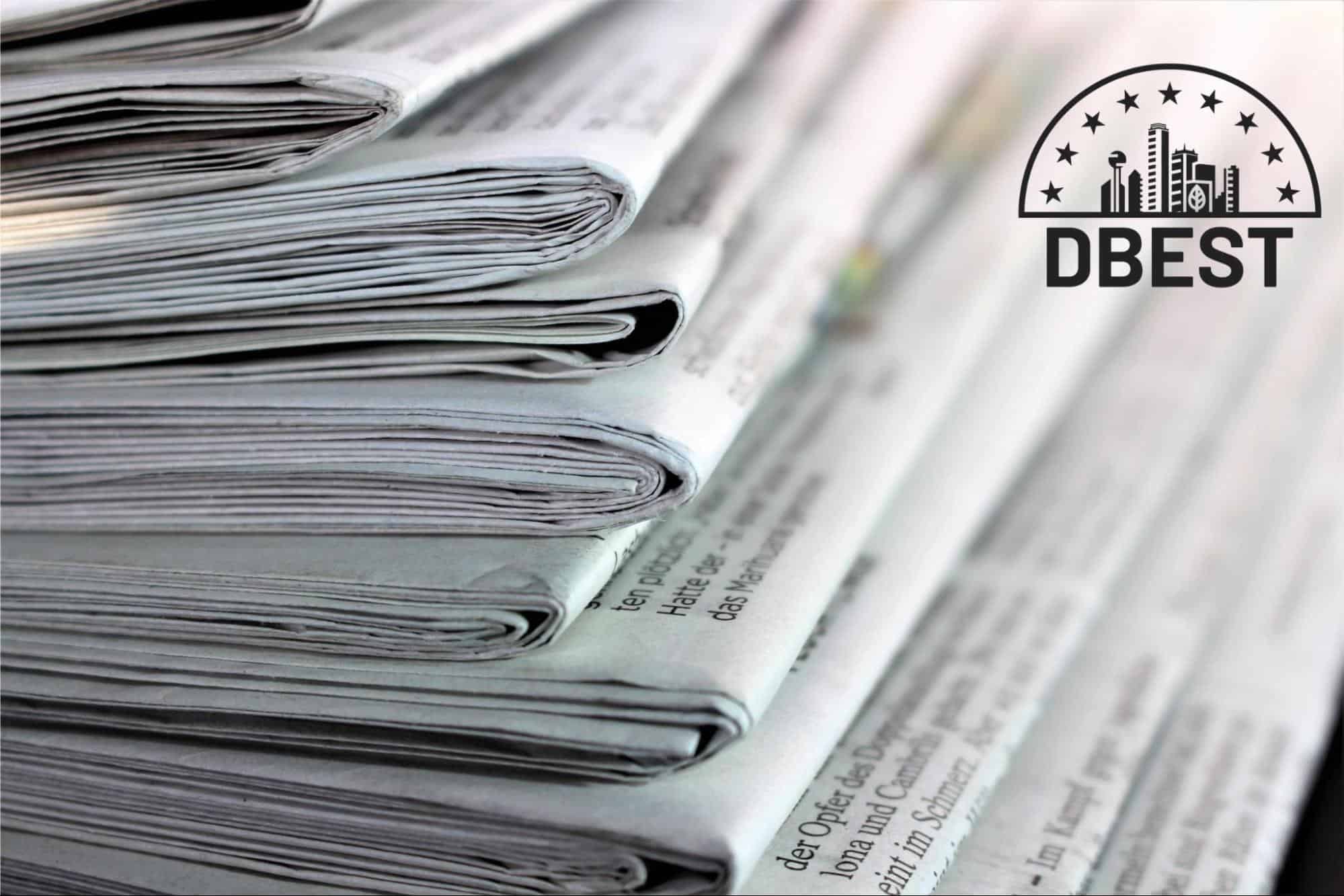 Top 5 Newspapers in Dallas
How We Picked
1. The Dallas Morning News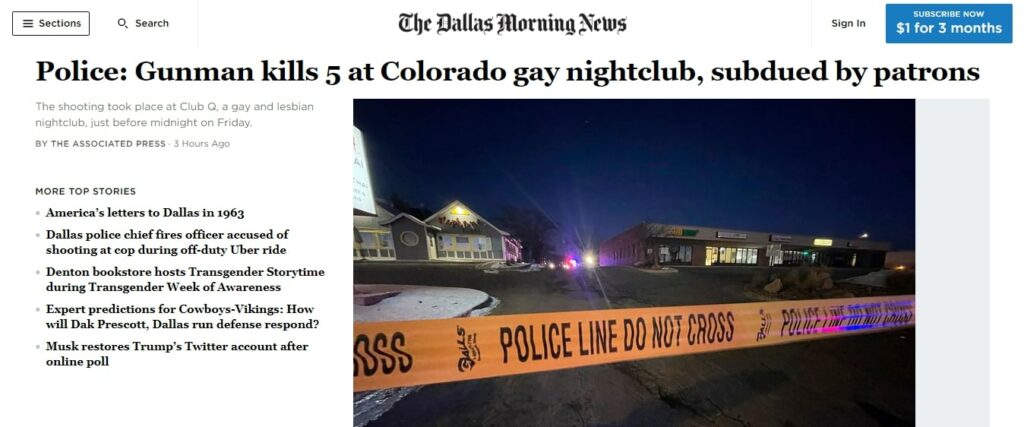 Coverage: Local News, National News, Global News, Business, Sports, Arts & Entertainment, Food, Opinions, Classifieds, Guides, Spanish Publications
Website: https://www.dallasnews.com/
Location: 1954 Commerce Street, Dallas, TX
Contact Details: 214-977-7081
| | |
| --- | --- |
| Yelp reviews score | 1.5/5 |
| Total reviews | 3/5 |
| Score consistency | 3/5 |
| | |
| --- | --- |
| Price | 4/5 |
| Coverage | 4/5 |
| Writing Quality | 5/5 |
| Factualness | 5/5 |
Wide coverage
Excellent writing quality
Interesting and relevant articles
Messy subscription process
The Dallas Morning News is Dallas' biggest newspaper. It's been in business since 1885 and has grown to be one of the most trusted newspapers in Texas.
The paper covers a wide range of topics, specializing in photography and global news. It's been awarded and nominated for numerous Pulitzer Prizes throughout the years.
The layout of its pages is clean, well-organized, and very easy to read. Its articles are also well-written, making it easy for readers to stay up-to-date.
This paper provides its readers with different opinions from various sources, giving them the tools to form an unbiased opinion. Its reports are very timely and usually released as fast as bigger mainstream news outlets.
Local news is a large chunk of the paper's content, helping its readers stay informed about their communities. It covers local high school sports, announced public notices, and posts obituaries.
For tourists, Dallas Morning News provides a large assortment of guides and listicles on where to go, what to do, the best food, and much more.
This paper has great subscription rates, although the process can be pretty messy.
Many of its clients told us that they kept getting billed despite unsubscribing from its print subscription.
These clients emailed, called, and wrote to remove their subscriptions, only succeeding after numerous attempts.
2. Focus Daily News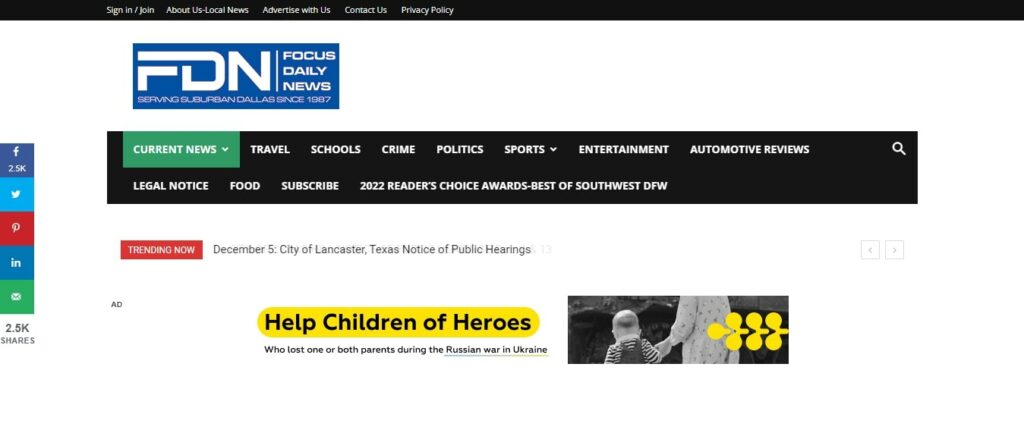 Services: Local News, National News, Travel, School News, Legal News, Crime, Politics, Sports, Entertainment, Car Reviews, Food, Business Reviews
Location: 1337 Marilyn Avenue, DeSoto, TX
Website: https://www.focusdailynews.com/
Contact Details: 972-223-9175
| | |
| --- | --- |
| Facebook reviews score | 5/5 |
| Total reviews | 2/5 |
| Score consistency | 5/5 |
| | |
| --- | --- |
| Price | 3/5 |
| Coverage | 4/5 |
| Writing Quality | 3.5/5 |
| Factualness | 4.5/5 |
Straight and concise articles
Cheap subscription rates
Focuses on news relevant to suburban Dallas
Online subscriptions only
The Focus Daily News is a local newspaper aiming to inform its audience in the simplest way possible. It puts more focus on news relevant to Dallas locals rather than national or global news.
It has wide coverage, covering high school sports, crime, and politics. The paper is divided by city, categorizing news depending on how relevant it is to each community.
It is very consumer-friendly and offers numerous guides and readers' choice awards to help list the best establishments and areas in the county. Community events and legal notices are published to help foster stronger bonds.
The paper helps keep the community safe. News of any convicts near the area, as well as police pleas for help, are posted in its crime section.
Its articles are very easy to read, mostly from the fact that they're written as concisely as possible. It's a great way to stay updated while going about your day.
Focus Daily News has great subscription rates, although only for its digital publications. The newspaper doesn't have print circulation.
Reading physical newspapers is much more engaging than digital articles, so this can be a pretty big con.
Clients told us that it's hard to match the feeling you get from a newspaper's smell and the crunchy sounds it makes with a digital publication.
3. Dallas Voice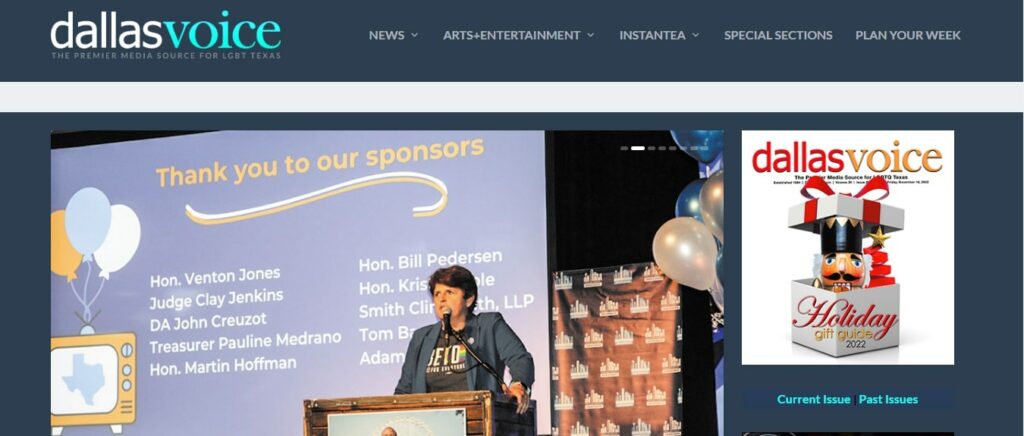 Services: Local News, National News, LGBTQ+ News, Arts & Entertainment, Sports, Advice, Community Stories, Social Issues
Location: 1825 Market Center Blvd., Suite 240, Dallas, TX
Website: https://dallasvoice.com/
Contact Details: 214-754-8710
| | |
| --- | --- |
| Yelp reviews score | 4/5 |
| Facebook reviews score | 4.4/5 |
| Total reviews | 4/5 |
| Score consistency | 4/5 |
| | |
| --- | --- |
| Price | 5/5 |
| Coverage | 4/5 |
| Writing Quality | 4.5/5 |
| Factualness | 3/5 |
LGBT-friendly
Free subscriptions
Can be biased
Some stories can be unfactual
Can omit some relevant stories
The Dallas Voice is a newspaper centered on LGBTQ+ news. It's been around since 1984 and includes coverage in Tarrant, Collin, Parker, and Denton counties.
With the many problems that queer people face daily, it's comforting to have a newspaper dedicated to reporting relevant information to the community. It provides numerous sections and resources for its LGBT audience.
The pride section delivers updates on upcoming pride events, parades, and celebrities advocating for the queer community.
Its advice section caters to a wider audience, offering opinions on various topics like worker rights, pet advice, and more. The advice articles are all very enjoyable to read and written in a conversational, LGBT-friendly tone.
It provides an archive for the LGBT talk show Lambda Weekly. The show frequently has politicians, artists, and activists as its guests.
The paper is free, although it doesn't offer print circulation. The free paper does come with many downsides though, which many of its readers have taken note of.
The Dallas Voice can be quite biased in delivering local and national news. It tends to rush to conclusions on news concerning the queer community despite a lack of development to the story.
On more than one occasion, clients told us that they tried to twist tragic events into something meant to incite or instigate the LGBT community despite a lack of evidence.
Relevant stories that don't fit the paper's views tend to go unreported, giving its readers only what it wants them to read.
4. Dallas Examiner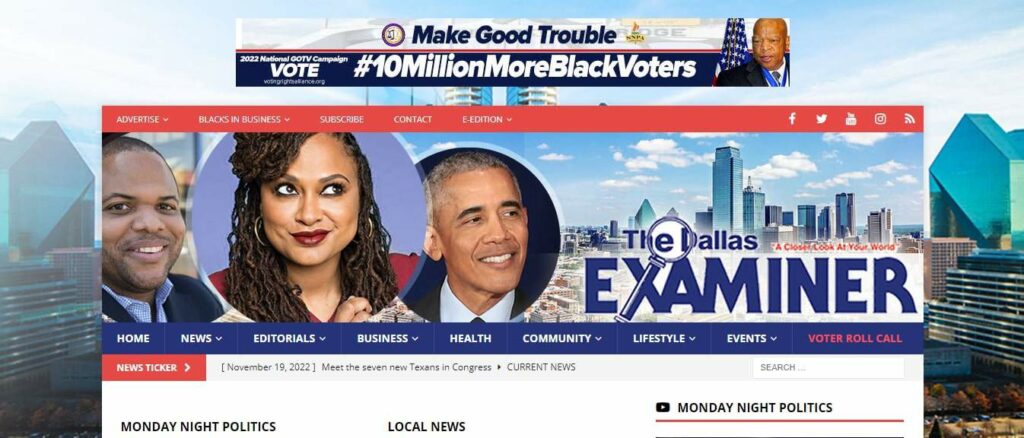 Services: Local News, National News, Politics, Government, Editorials, Business News, Health, Community Articles, Arts & Entertainment, African American News
Location: 4510 S. Malcolm X Blvd., Dallas, TX
Website: https://dallasexaminer.com
Contact Details: 214-941-3100
| | |
| --- | --- |
| Yelp reviews score | 5/5 |
| Facebook reviews score | 5/5 |
| Total reviews | 1/5 |
| Score consistency | 5/5 |
| | |
| --- | --- |
| Price | 5/5 |
| Coverage | 4/5 |
| Writing Quality | 4.5/5 |
| Factualness | 4/5 |
African American-friendly
Cheap subscription rates
Wide coverage
Can be biased towards the Left
The Dallas Examiner has been around since 1986 and acts as an African American newspaper. It delivers and informs non-African Americans on news relevant to the black community.
The paper reports on Black communities locally, nationally, and globally. It sheds light on the struggles and successes of people often ignored by other news outlets.
On the Russia-Ukraine war, for example, the paper reports on displaced African immigrants and their pleas for help.
Its business section features Black businesses, businessmen, and events nationwide. It has other topics for non-Black readers, such as financial advice, workers' rights, and statistics.
The Dallas Examiner is one of the few newspapers with a religion section, but it's mostly on Catholic news. It features religious figures, local churches and events, and community pieces on the benefits of faith.
Its lifestyle section highlights African American culture. It has articles on Black history, arts, food, and guides to nurturing the Black cultural identity.
It has cheap subscription fees, although it can be a bit biased with local and national political news. Stories are sometimes written with a bias toward the left.
Articles mostly focus on the workings of Democrat politicians, and little is covered for the Republican side.
5. Dallas Observer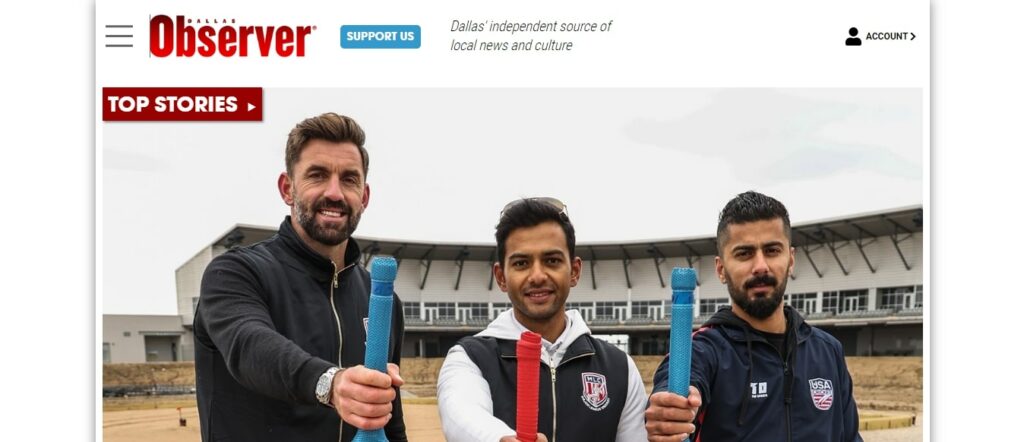 Services: Local News, National News, Politics, Healthcare, Food & Drinks Guides, Arts & Entertainment, Music, Community Guides, Classifieds
Location: 2030 Main Street, Ste 410, Dallas, TX
Website: https://www.dallasobserver.com/
Contact Details: 214-757-8462
| | |
| --- | --- |
| Yelp reviews score | 4/5 |
| Total reviews | 2/5 |
| Score consistency | 4/5 |
| | |
| --- | --- |
| Price | 5/5 |
| Coverage | 3.5/5 |
| Writing Quality | 4.5/5 |
| Factualness | 4.5/5 |
Wide media coverage
Informative and entertaining articles
Media and entertainment-centered
Sold through newspaper stands
The Dallas Observer has been around since 1980. It's a free digital publication with print circulations every Thursday.
The newspaper is a member of the Voice Media Group, a group of companies in Texas serving advertisers and business owners.
As such, the Dallas Observer's content focuses more on what keeps the reader engaged rather than informed.
The paper covers local news and politics. Its articles are relevant to all of Texas and are factual.
The bulk of the publication is on entertainment articles. Dallas Observer is very consumer-friendly and has loads of featured businesses, attractions, and guides.
If you're a tourist or someone interested in knowing more about their Dallas neighborhood, then this paper is for you. It reviews almost everything in the county including concerts, theaters, and bars.
The paper has a solid things-to-do-in-Dallas guide, which is informative and easy to read. It also features an after-dark newsletter for adults searching for sexy spots in town.
Despite its entertainment-centered content, its daily newsletters can still keep readers updated with recent developments. There are few biases present in its writing, so readers can form their own opinions on subjects.
The paper does not deliver print circulations to your doorstep, but it is available in numerous free newspaper stands across Dallas.
FAQs about Newspapers