Categories >
Guides and Tips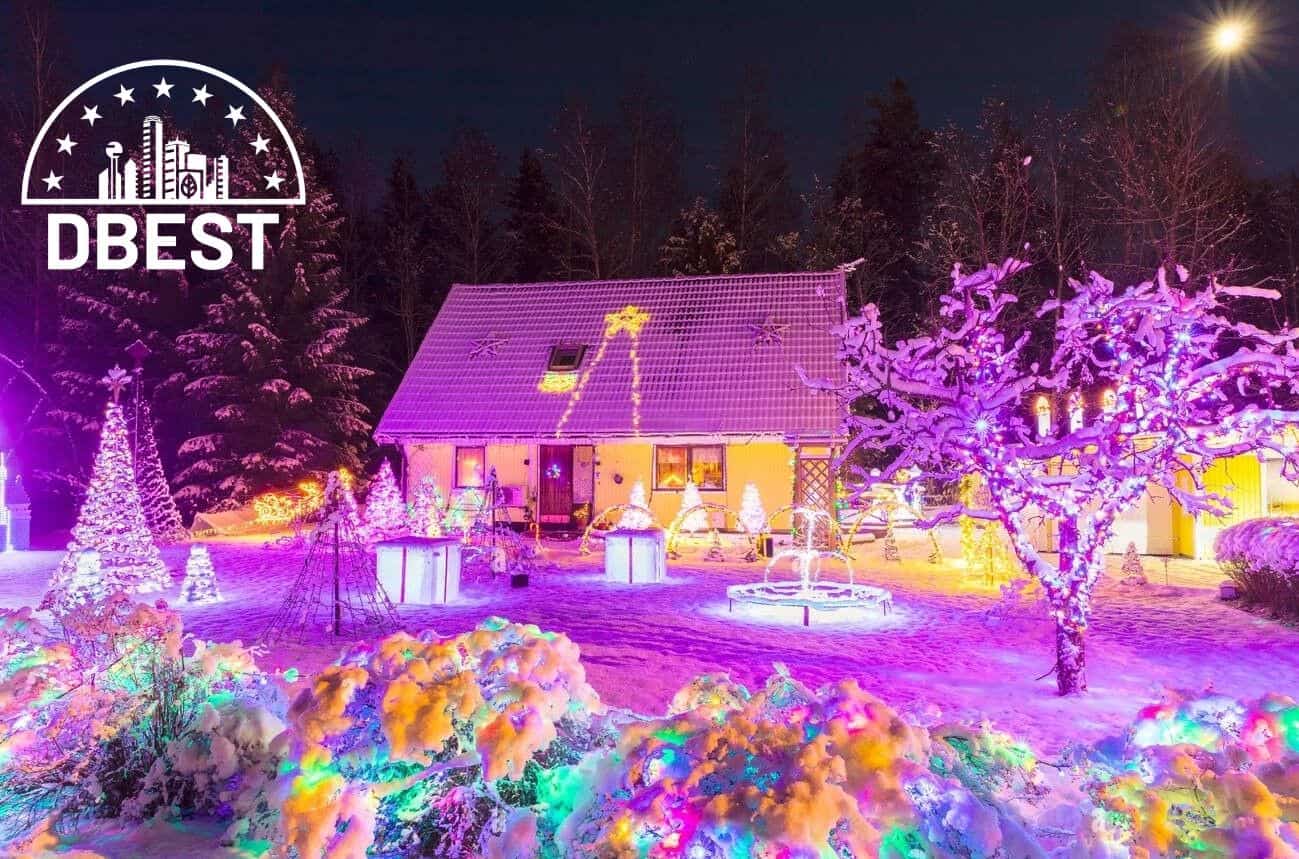 Does it snow in Texas? Top 7 Places to See Snow in Texas
Texas is known for being a warm state, so non-Texans often get surprised when they find out it gets its fair share of snow too.
It's fourth among states with the least amount of snow though, so don't expect too much.
Texas snows from November to February, but it mostly happens in the western and Texas Panhandle areas. Amarillo, Lubbock, Abilene, DFW, El Paso, Texarkana, and Wichita Falls usually see the most snow.
However, southern mountain parks also get a decent amount of snow due to their high elevation.
In a nutshell, any area north of San Antonio will see snow. Here's where you can find the most of it.
Location
Average Inches of Snow
Snowy Months
Amarillo
17.9 in
November to March
Peak: January
Big Bend National Park
6-12 in
November to April
Peak: January
Lubbock
9 in
November to February
Peak: January
Guadalupe Mountains National Park
3-7 in
December and January
Peak: January
Abilene
3 in
November to March
Peak: January and early February
Fort Worth
2.1 in
November to February
Peak: February
Texarkana
2 in
December to February
Peak: January
Wichita Falls
2 in
December to February
Peak: January
Dallas
1.5 in
December to February
Peak: February
El Paso
1.1 in
November to February
Peak: December
How often does it snow in Texas?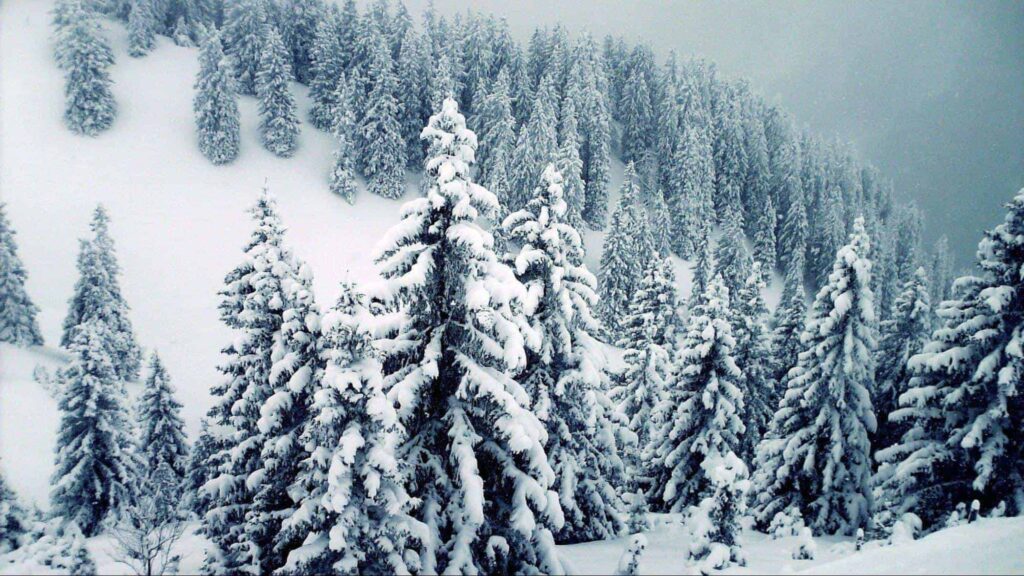 While Texas' winter season begins in the last week of November, snow doesn't show until December. Texas experiences snow from the first week of December to the last week of February.
The northern part of the state is more prone to snowfall due to its higher elevation. This includes areas like Amarillo, Lubbock, and Abilene.
Meanwhile, the middle and southern parts of Texas, including Dallas and Austin, still experience snowfall but to a lesser degree.
These areas generally don't see snow until January or February, and snowfall is usually light.
How much snow does Texas have?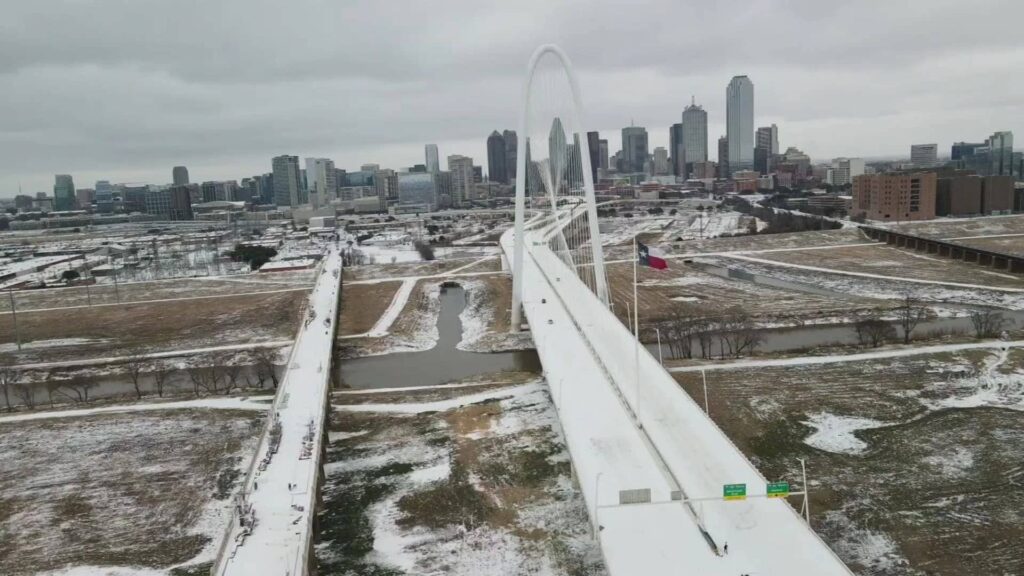 Texas sees an average of 0.1 inches of snow. Generally, the northernmost parts of the state receive the most snowfall, while the southern and coastal areas receive the least.
Amarillo, Lubbock, and El Paso receive the most amount of snowfall, going up to 28.8 inches.
The northernmost parts of Texas receive an average of 10 inches of snowfall each year, while the southern and coastal areas may receive none at all.
In some years, the northern parts of the state may receive up to 30 inches of snow.
Top 7 Places to See Snow in Texas
1. Amarillo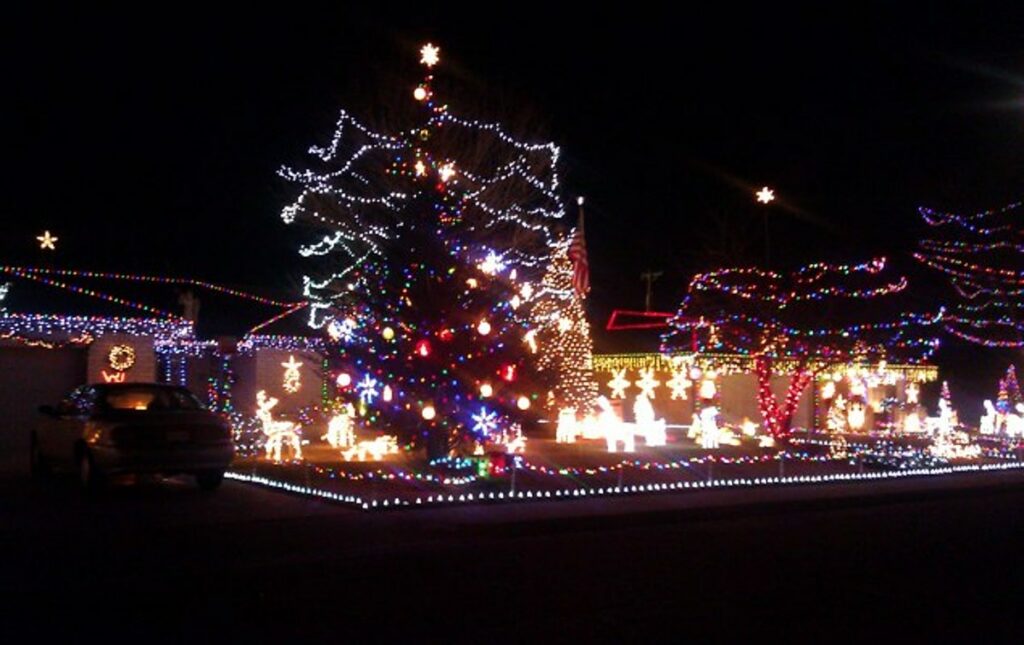 Amarillo is located at the top of the Texas panhandle, meaning it receives the most snowfall in the state. The city receives an average of 17.9 inches of snow per year, but this can vary.
From 2012 to 2013, for example, Amarillo's average snowfall jumped from 4.9 to 34.2. That's a large amount of snow for Texas' winter wonderland.
Being Texas' winter paradise, there are plenty of places to go to for the best snowy experience. To start, the Christmas lights display at Bishop Hills is every Amarilloan's favorite Christmas event.
For the whole month of December, the display features a collection of holiday lights and decorations that are set up around the town, including on the main street and in some of the local parks.
If that's not an option, there's also the Amarillo Botanical Gardens to check out. It lights up its trees and walkways throughout December; visit when there's snow and it'll be a Christmas experience straight from a fairytale.
Check out the Botanical Gardens' details here.
Amarillo Botanical Gardens
1400 Streit Dr, Amarillo, TX
806-352-6513
6:00 PM to 8:30 PM (Thursday to Sunday)

No Lights (Monday to Wednesday)
2. Big Bend National Park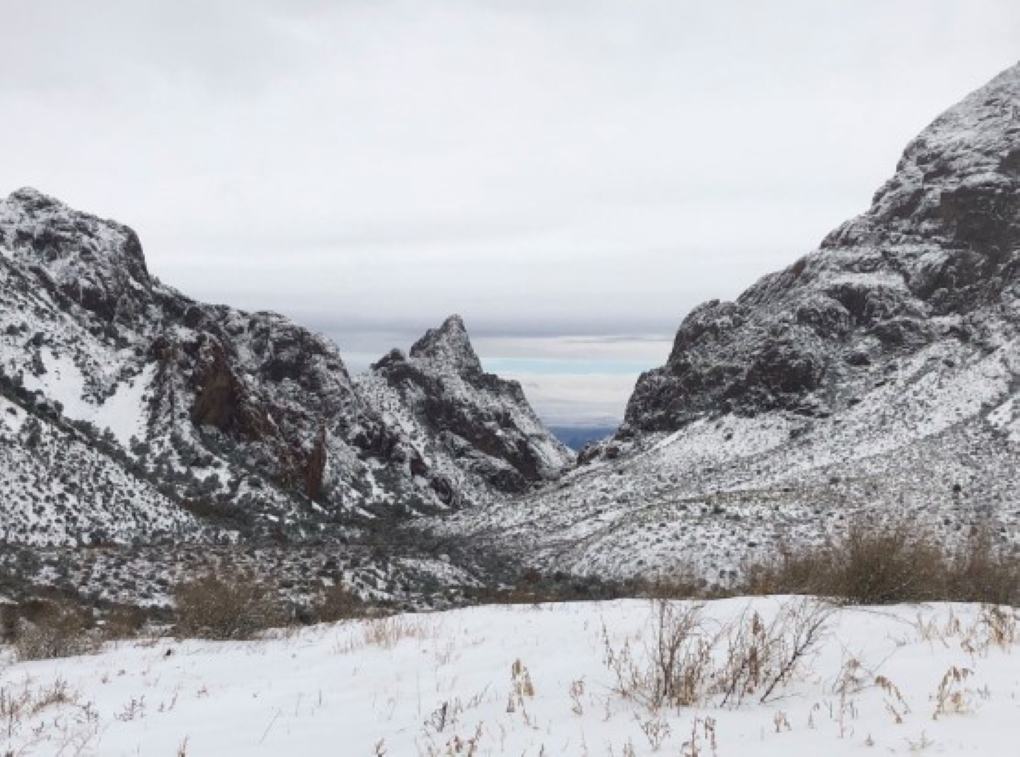 Big Ben National Park only experiences an average of two snowfalls per winter, but when these occur, the snow is pleasantly light.
The most amount of snow that Big Bend gets is 18 inches, while the average is usually around 6-12 inches.
When snow occurs, you can see the Chisos mountain tops glazed with beautiful coats of white. The drive to the place is great too, as you'll be surrounded by trees decorated in snow.
For a closer look at the mountains, check out the Chisos Mountains Lodge. It's got an RV park, campground, and concession stands.
If you want a great winter experience in Texas, check out the two sites' details below.
3. Dallas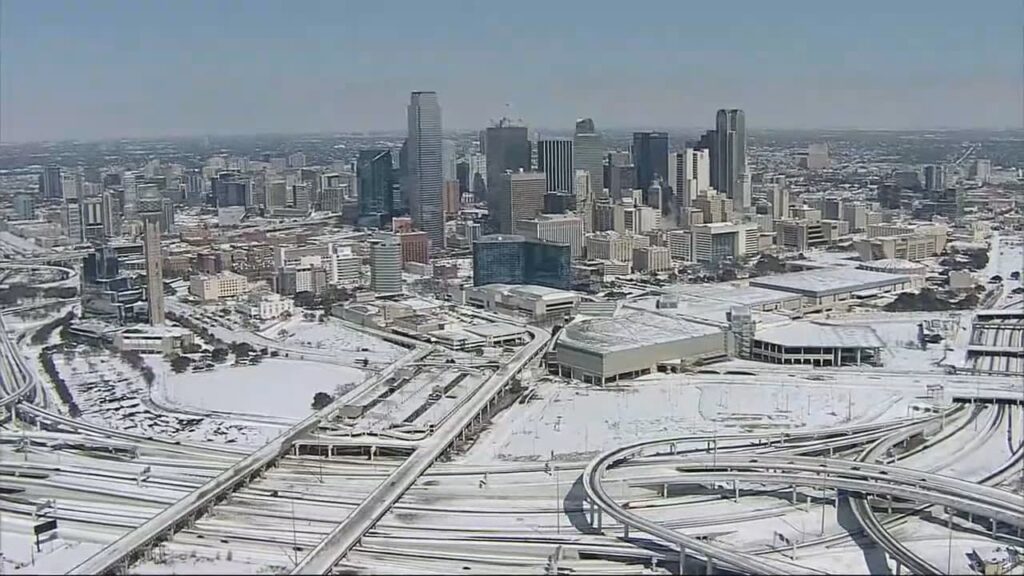 Dallas usually experiences snowfall for just two days per winter, with an average of 1.5 inches. It sees the most snowfall in February when the average snow increases to 3 inches.
The northern neighborhoods of Lake Highlands, North Dallas, Preston Hollow, and University Park get the most snow, while the ones closer to Downtown Dallas such as Oak Lawn and Cedar Crest don't get as much.
If you prefer to stay in Downtown Dallas, check out the Perot Museum and hang by the terrace. It will give you a great view of the city and the blankets of snow covering its streets.
After the museum, you can also head to the local rooftop bars to watch the snow fall while enjoying delicious cocktails.
The Perot Museum's terrace is the building's most defining feature, making it perfect for get-togethers or dates in Dallas. Here are its details below.
For the best experience with snow, head farther out of the Downtown Dallas area where snow tends to be more abundant and filled with less smog.
What is the coldest month in Dallas?
The coldest month in Dallas is January when temperatures reach an average of 46°F with lows of 36°F.
4. Guadalupe Mountains National Park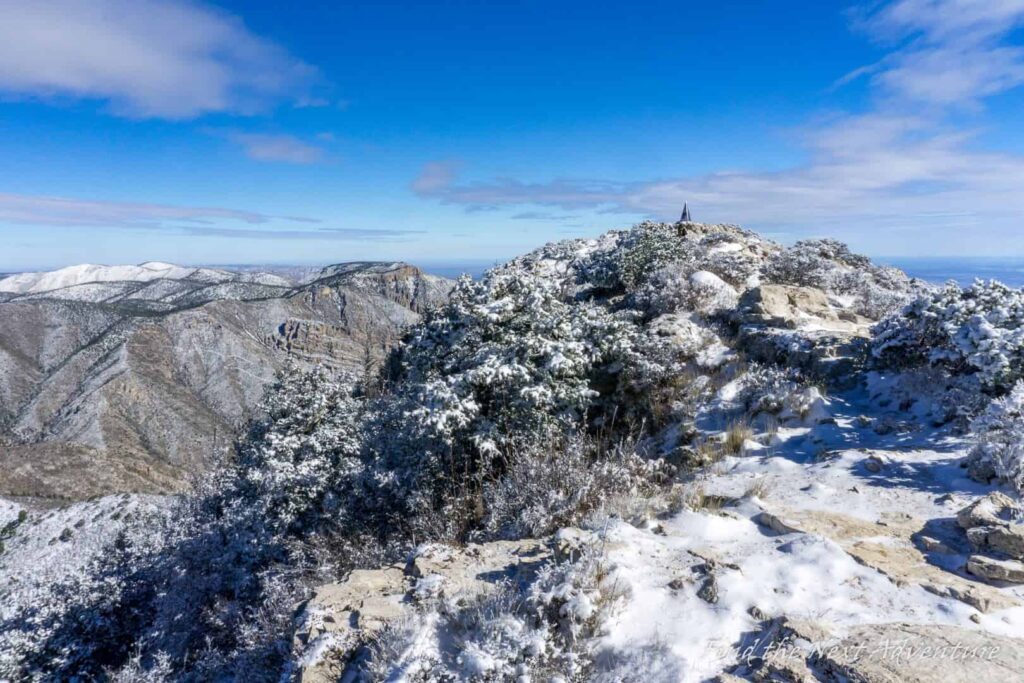 The Guadalupe Mountains National Park is filled with mountains that attract snow, so you can expect to see peaks covered in white throughout the winter season.
To get the most out of the park, head to the camping grounds along the Peak and Bush Mountain trails.
The Guadalupe Peak Wilderness Campground is the Peak Trail's elevated campsite located near the peak itself. It's a popular site for hikers, but it does get covered in several inches of snow due to being so high up.
The Pine Springs Campground, then, is the ground-level campsite of the Peak Trail. There won't be as much snow, but it's also a much safer place to be compared to being halfway through a mountain.
An alternative to the Peak Trail is the Bush Mountain Trail, which has two campgrounds perfect for enjoying the snow: the Bush Mountain and Pine Top wilderness campgrounds.
Both of these campsites are close to each other but provide vastly different views of the Guadalupe winter. The Bush Mountain campground is set right beside Bush Mountain's peak, offering a breathtaking view of the surrounding area.
The Pine Top campground doesn't have as good a view of the mountains as Bush, but the surrounding trees are much more colorful. Bush's trees are all drab and plain while Pine Top's are filled with color throughout the winter.
If you want to check these sites out for yourself, here are their details:
| | | |
| --- | --- | --- |
| Campground | Address | Contact Details |
| Guadalupe Peak Wilderness Campground | 400 Pine Canyon Dr, Salt Flat, TX | 915-828-3251 |
| Pine Springs Campground | 400 Pine Springs to Guadalupe Peak, Salt Flat, TX | 915-828-3251 |
| Bush Mountain Wilderness Campground | Salt Flat, TX 79847 | N/A |
| Pine Top Wilderness Campground | Tejas Trail, Salt Flat, TX | 915-828-3251 |
5. El Paso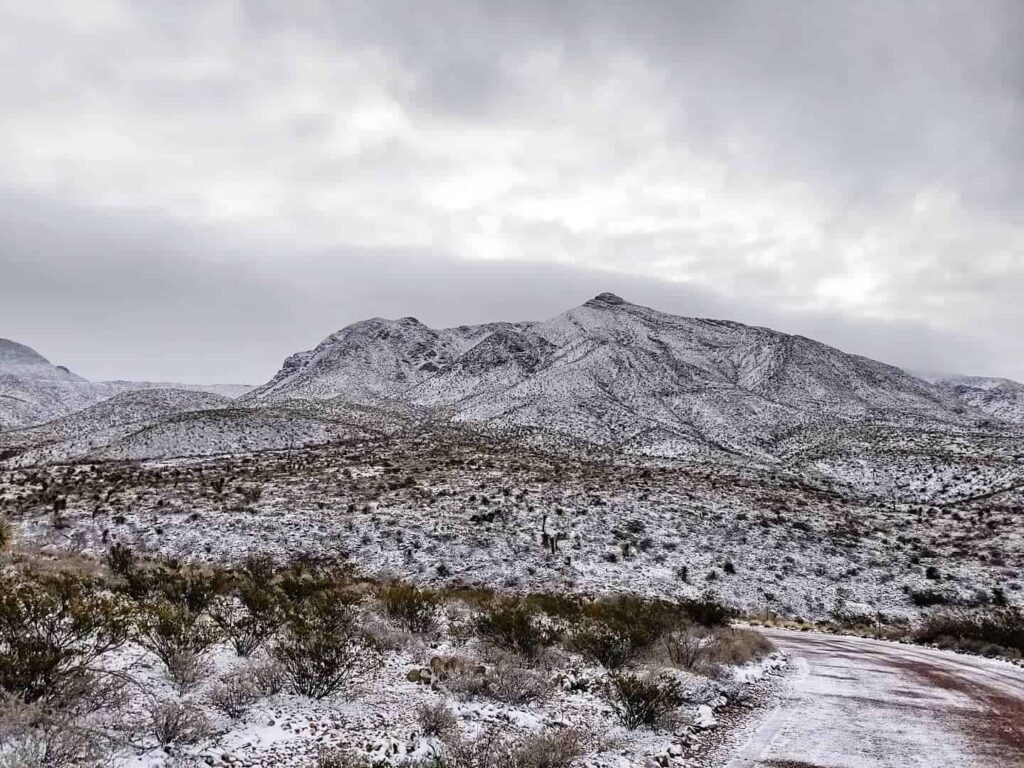 Every winter, El Paso receives an average of 1.1 inches of snow. Snowfall usually occurs from late November to February, with an average low temperature of 35°F.
The Franklin Mountains State Park is the best place to enjoy the snow in El Paso. These beautiful mountains are covered in light snow and offer a great view of nearby Mexico.
The surrounding nature is filled with color too, making it the perfect place for a winter picnic or hike. To find out more about the place, here are its details:
| | | | |
| --- | --- | --- | --- |
| Franklin Mountains State Park | Tom Mays Park Access Rd, El Paso, TX | 915-566-6441 | 8:00 AM to 5:00 PM (Everyday) |
6. Lubbock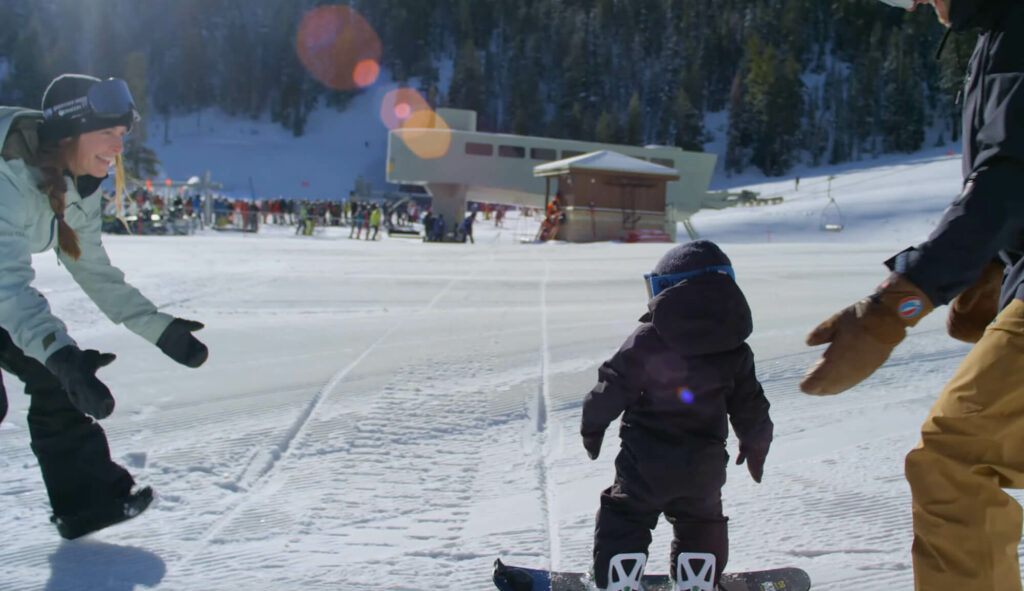 Lubbock experiences an average of 9 inches of accumulated snow per year, with temperatures reaching a low of 18°F.
The best time to visit would be from December to February, which is when snowfall usually occurs.
During this time, Texas Tech University hosts the Red Raider Outfitter's Ski & Snowboard Area.
Visitors can rent ski and snowboarding equipment and enjoy these activities — but they're very in demand, so be sure to book a reservation!
Check out the details below:
7. Fort Worth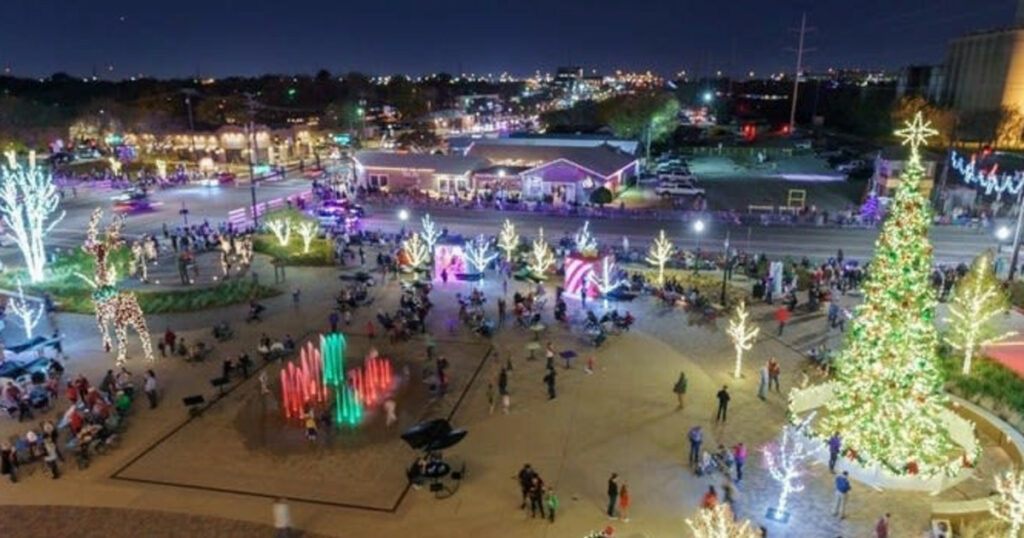 Fort Worth receives an average of 2.1 inches of snow per year, but snowfall only happens in February. The best thing to do in Fort Worth when it snows is to ice skate at either the Stockyards or the Peace Plaza Skating Rink.
When the snow begins to fall, the Stockyards offers ice skating at its Rodeo Rink. It's covered by just a ceiling, so you're shielded from the snow but still get to see it fall outside.
If you want a full outdoor experience, then the Peace Plaza Skating Rink ditches the ceiling for you.
For those that go at night, the surrounding trees are lit up with Christmas lights, providing a magical atmosphere while the snow falls around you.
Both places grant entry for $20 a ticket. Here are their details.
Venue
Address
Contact Details
Hours
Stockyards Rodeo Rink
121 E Exchange Ave, Fort Worth, TX
817-625-1025
8:00 AM to 5:00 PM (Everyday)

6:30 PM to 12:00 AM (Thursday to Saturday)
Peace Plaza Skating Rink
815 S Main StreetGrapevine, TX
817-410-3450
4:00 PM to 10:00 PM (Weekdays)

12:00 PM to 9:45 PM (Weekends)

Last skate session begins an hour before closing